The Experiences EP tells the beautiful true-life story of Honcho Neggar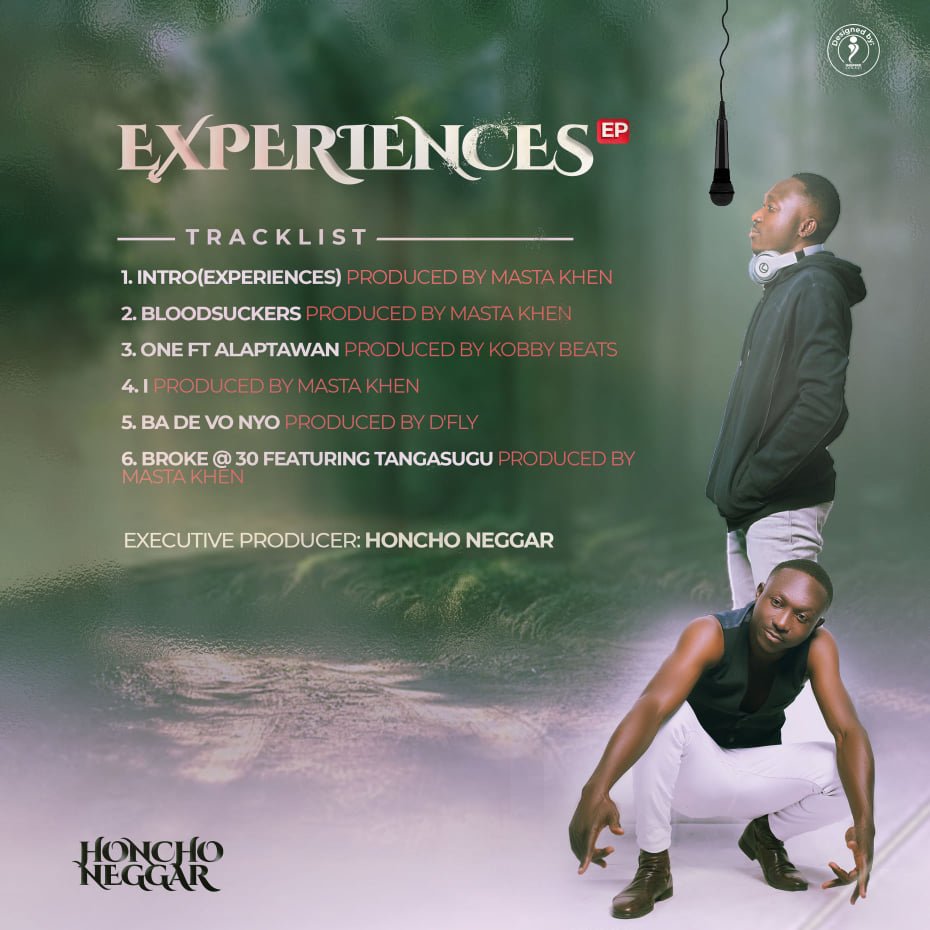 The Experiences EP is coming. Pius, known in musical circles as Honcho Neggar is about to set "rap-dom" off with pure genius lyrics. Known for his grit-filled bars in English, Kasem, and occasionally Twi. Expectations can only be as high as the heavens. His stand apart nature breeds one of the highest anticipated EP's in recent times. Ordinarily, one would view the craving as a supposition, however, Honcho Neggar's previous body-of-work lends credence to what we all anticipate.
The Experiences EP is an embodiment of everything rap and Hip hop. Suffice to say, despite being a musical genre, rap music is a tool that allows for infusions that spiral growth in many areas. It doesn't just stay entertainment, and that is what the quick-witted Honcho Neggar specializes in. Having churned out many songs to prove relevance, dexterity, depth as a thinker, as well as a force to reckon with; one of Navrongo's foremost lyricist is set to outdoor his first EP, The Experiences EP.
In a post on Facebook, the enigmatic rapper had the following to say about The Experiences EP.
"A man largely is a product of his environment. Whatever he experiences becomes his reality, unless after he encounters another culture that challenges his ways and he succumbs."
This reveals a lot about what to expect. The chronicles of what makes a man, the effects of acculturation, and the possibility of coming up trumps. All beautifully put on beats.
According to Honcho Neggar, The Experiences EP captures vividly his experiences from birth to date. This encompasses all spheres of his socio-cultural experiences. From faith, all through to politics. Aspiring to leave his audience with an impressive memory with picturesque lyrics, he goes candid on all verses. 
The Experiences EP has only two features; Alaptawan, and Tangasugu.
A precursor to this thought-winding EP was released sometime last year. Bloodsuckers was more of a swipe at what politics in Ghana truly stands for. The song received ovatious reviews, what would the public say about The Experiences EP?
He's assured listeners of themes that revolve around his Personal Life, Alcoholism, Tribalism/Ethnocentrism/Racism, Unity, among other sub-themes. All the songs were produced and mastered by three of Navrongo's finest beatmakers: Masta Khen, D'fly, and KobbyBeats. The six-track EP is a potpourri and is set to be released on the 24th of October, a day after Honcho Neggar's birthday.
Nashberry Beats Maccasio To Become The Savanna's Most Streamed Artiste
…Nashberry's relevance as one of the most-streamed artistes from the savanna of Ghana, especially on Spotify.
Nashberry readies a new banger titled "shame on you" featuring Best Gally. However, the affable act is already in the news for very good reasons. Reasons that demand another look at the success of musicians in this era of digital domination. The world of tech is now dotted with digital music sale platforms. And by the day, the need for a deliberate attempt to make sales via these platforms is resounding in all marketing ploys for musicians. The era where stage performances bring the bulk of revenue is gradually creeping to an end. Digital streams are far more enduring, and a guarantee for a lifetime source of revenue for all musicians.
The entire savanna belt of Ghana has arguably 3 big musicians, Fancy Gadam, Wiyaala, and Maccasio. These three have proven strong due to the impressive following they have. However, a cursory look brings up names like Fadlan, WizChild, Don Sigli, Mani Mandela, Teflon Flex, Soorebia, Rockcity, Honcho Negga, and many others. These are very amazing artistes. But the question is, how much does their impressiveness bring when it comes to streams on platforms like Spotify?
A few days ago, OneMuzikgh carried a story on Nashberry's relevance as one of the most-streamed artistes from the savanna of Ghana, especially on Spotify. Whilst it may not be news to many, an artiste from the Upper West Region scoring such huge streaming numbers is definitely worth celebrating. Nashberry comes in 3rd with over 145,000 streams. Fancy Gadam who is obviously a bigger artiste also has some over 300,000 streams, making him 2nd. Interestingly about half of his streaming numbers are coming from a collaboration with Sarkodie. Wiyaala sits at number one with around 400,000 streams. These statistics suggest Nashberry is a major force to reckon with. No matter how his stature isn't viewed as a Fancy Gadam or Maccasio, his drive definitely transcends a visit to the studio.
At the height of the coronavirus pandemic, Asonya Gh, a blogger who doubles as a digital music expert called on musicians to create a thriving digital presence. This for him was a way to make revenue at a time the world was on lockdown. Now, going outside the scope of a pandemic, success on the back of multiple streams of income is easier. So, given the opportunities available online, the call is prudent.
Having identified what can be a panacea for the poverty-stricken music industry of the savanna regions, the know-how is also a challenge. Asonya Gh has therefore availed himself to assist all interested musicians to create this digital presence. Nashberry is actually one of the first musicians he signed on. He has indeed taken Nash's relevance from zero to over 145k streams. You can reach Asonya Gh on Facebook for any dealings.
Considering the dynamism that governs the business of music of now, artistes must make major incursions to own a market share. In the process, expanding on the financially rewarding aspects of the industry. Suffice to say, the opportunities that come with technology today are one every artiste must take seriously.  
Nashberry is a budding musician from the Upper West Region.
Gospel Songstress Wegeiwor teases with First Love, ahead of EP
Christendom is at a point where the message of repentance and salvation appears to dwindle. Many latch on to the message of prosperity, and prophecies that seem to beef up their desires. Unfortunately, the riches that come with accepting Christ Jesus as Lord and savior demand for the faithful to be repentant, pious, and ever-willing to pursue Godliness.
2021 is almost done; and Gospel singer Wegeiwor calls for a revival in her new single, First Love. Christendom is at a point where the message of repentance and salvation appears to dwindle. Many latch on to the message of prosperity, and prophecies that seem to beef up their desires. Unfortunately, the riches that come with accepting Christ Jesus as Lord and savior demand for the faithful to be repentant, pious, and ever-willing to pursue Godliness.
In this new song, First Love; Wegeiwor reiterates the challenges of the time, reminding all of who is true. The simple message of repentance, and avoiding a reliance on false messages is the driving force behind this impressive reggae tune.
For believers, First Love is the song that gets you asking yourself a pertinent question. "I'm I ready for the second coming of Christ?". Call it a test-my-place in Christ song, and you won't be faulted.
With production from another gospel great, Koda at Koded Studios, one can understand how the song hits the soul. First Love is the first single off a yet-to-be-released EP.
Stream and Download First Love via the Link below.
Wegeiwor is an affable personality who has resigned her every interaction to an opportunity to preach. Despite her busy schedule as a senior lecturer at the University of Ghana Business school, she makes it a point to preach the gospel in unconventional ways. Through her Foundation, Ex-Glo, she has supported students in deprived communities with items ranging from Furniture, Books to Sanitary Pads. A major feature in all of this remains her call for people to rely on the Holy Spirit (freely given to Christians by Jesus Christ). To further reach the world, she has capitalized on her vocal strength to reach many through music. For her, the world is not just the beautiful cities but includes communities seen as unbelieving. Thus, she performs her music in languages that can easily be mistaken as heathen, especially when one considers mainstream gospel music in Ghana.
The wait is over, The Experiences EP By Honcho Neggar sets a new standard
The most anticipated musical work of art from Navrongo is finally here as scheduled. Honcho Neggar promised to drop an impressive musical memoir a day after his birthday, and true to his words, he has. The Experiences EP by Honcho Neggar is now on all major streaming and music service platforms. With the options of either streaming or buying, fans can wholly own or always return for a nice dose of LIFE in the eyes of Honcho Neggar.
The Experiences EP is the journey of a man born in Navrongo. A man whose journey transcends travel time, endeavors, the pursuit of education, the struggles of being a Ghanaian, and the desire to belong. This has informed his view of the world, which probably may be alien to me and you. It is the true-life story of one of Navrongo's finest rappers, Honcho Neggar.
For nearly two years, the talk of chronicling his life in an album has dominated his social media timeline. Despite jumping on several songs with other artistes, Honcho Neggar apparently kept the focus on what is arguably his biggest project yet. Released with the Apprise Music Distribution label, The Experiences EP is setting a standard.
Whilst releasing music on commercial platforms does not necessarily mean a major feat. The Savanna Regions of Ghana is yet to fully appreciate the business of music. Whereas many release their music on platforms for free, they still assume music sales who shoot up. It is therefore commendable that, from the onset, Honcho Neggar has chosen to see this as a business.
Whilst I am yet to take a listen to the full EP, I believe songs like Bloodsuckas are an indication of the heart put into this body of work. I'll be doing a review of the album in the coming weeks.
Stream it, buy it, and leave comments.