Introducing John Q…
Even though John Q admired the job of a serviceman, music gradually took over is heart, making him resolve to one day pursue music as a career.
"I was however inspired at the age of 12 when I heard Bob Marley's "One Drop", but the truth established now is that, music is the closest thing to God for me".
Every now and then Ghana becomes a center of attention – mainly because some sons and daughters of this great nation are making massive inroads into all sectors of the world economy especially showbiz and academia. It is therefore noteworthy to officially introduce to you one such fine personality currently make waves with his brand of reggae music in New York and Jamaica.
Born John Kwesi Quansah in Accra – Ghana, John Q was sent to Rev. John Teye Memorial Institute at age 4; a school noted for producing excellent musicians like Kwame Yeboah. As a pupil of Rev. John Teye Memorial Institute one was obliged to learn to play the piano, write poetry and sing Mathematics. Even though John Q admired the job of a serviceman, music gradually took over is heart, making him resolve to one day pursue music as a career.
After his basic school education at Rev. John Teye Memorial Institute, he proceeded to Accra High Senior School and migrated to the United States of America to join his mother – this happened just after completing his senior high school education.
Typical of an African in America, he first bagged a Bachelors degree in Biology and Food Science.
The "hassle and bustle" of New York eventually led John Q to meet with the late Gersham Nembhard of Jamaica a great lead guitarist, and also Jerry Anokuma Hanson another great lead guitarist who worked with legendary AB Crentsil Ahenfo band. These two individuals taught John Q to play the guitar.
With the ability to play the piano and guitar, one would assume John Q was gearing to take up music with ease, the realities of life as an emerging artiste taught him to be diligent, patient and also be willing to team up with other musicians. This led to the formation of a band in the Bronx with his two guitar teachers.
As young as John Q was, he had so much to look forward to as his two other band mates where very optimistic of his success as a musician. With the band, they performed at almost every opportunity and young John Q was picking up all the attitude and demeanor that characterizes a successful artistes persona. Unfortunately, he needed a new approach when both his band mates passed away untimely.
At this point John Q decided write and compose more original songs whilst serving as an executive producer for Jamaican gospel singer Mellow Wayne.
While John's mother battled Cancer, John Q would help his mother deal with the crisis by talking about music and sometimes sing to her. The pain of an early divorce also forced John Q to take a consolation in music.
"Music has always been my consolation when I encounter challenges in life. My mother Rev. Juliana Solomon Sackey was a schoolteacher and a devoted pastor in Ghana for 30 years, and 20 years in New York; so, her words of encouragement regarding patience and hard work in his pursuit of a successful music career stayed with me every step of the way"…John Q.
In early 2016 John Q encountered Mr. Sidney Mills, the keyboardist for Steel Pulse Reggae band; Sidney Mills encouraged John Q to visit Jamaica with him, this trip proved extremely beneficial because it provided an opportunity to record John Q's "Feel Good Reggae" album at Bob Marley's Tuff Gong studio.
"Recording at Bob Marley's Tuff Gong studio was a dream come through… Jamaica is the Mecca of Reggae Music and the enormity of what I seek to unleash musically came to bare during my visit, especially my first day at Tuff Gong which coincided with Martin Luther King's birthday. The various artistes I met whilst in Jamaica took the business of Reggae so serious – I realized I had big shoes to fill in if I want to be a Reggae Star."…John Q.
Being a Reggae music aficionado, John Q puts in a lot of live instrumentation to give his music the grit needed to haunt the conscience of reggae lovers into the "Feel Good" mood.
Notable amongst musicians John Q has worked with are Dean Fraseron a saxophonist, Flabba Holt a Bass guitarist, Squidly Cole and C sharp both drummers, Mike Chung a guitarist, Alvin Smith a percussionist, as well as Bubbler and Sidney Mills both keyboardists.
John Q's influences come from Reggae music greats like Peter Tosh, Joseph Hill of Culture, Burning Spear, Black Uhuru, MutaBaruka, Jacob Miller, John Holt and many others. For him, the African ancestry of Jamaicans make it easy to fill up the shoes of the above listed artistes with a seamless integration of music as an art form and his Ghanaian culture especially the element of language.
"What makes my reggae unique is that it is a mixture of African and Jamaican vibes sung in 4 languages – Twi, Ga, English and Spanish."… John Q said.
His recent music video was filmed in Portland inside Jamaica and according to John Q, the director/producer of the video Ariff Buttler decided to choose the venue to show the world some of the beautiful scenes that adorn Jamaica.
John Q believes Reggae music is superior to other music genres due to its reliance on positivity and consciousness; giving it the ability to uplift the spirit of many in difficult situations especially the downtrodden.
"Reggae stands as a sign of hope to the poor and weak." He added.
John Q latest album titled "Feel Good Reggae", was released by VP Records in New York who also act as distributors and is currently doing very well.
Story By Atigsi-Badek Afoko/thesavannaonline
DND Goes Hard on "Witchcraft" through Rap; with KAMULIMULISIGN aka the Night Flier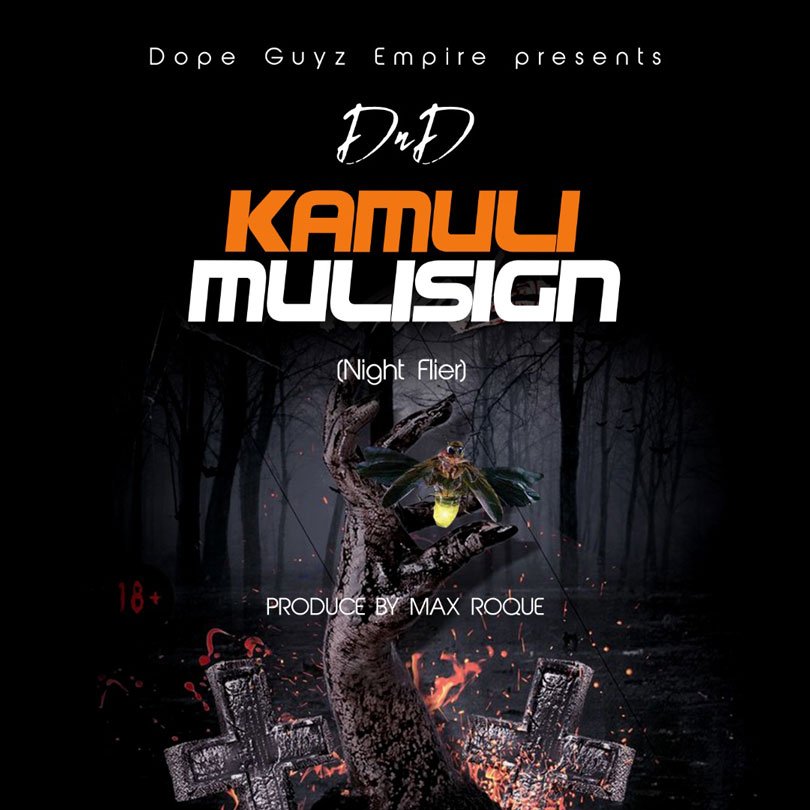 DND of the Dope Guyz Empire comes again with another creative piece.
This time, the duo tackles a very sensitive topic.
The song is entitled KAMULIMULISIGN addresses some evil doings in our societies. The song emphasises the fact that hatred, jealousy and envy are the causes and sources of human suffering, and these bad deeds are the fertile ground for the activities of the rampant witchcraft and its adverse effects on humanity and society as a whole.
Many innocent lives have been lost, as well as destroying people with good minds for development. The song questions why witches are only and passionately interested in killing and destroying great people who have good intentions and the ability to bring development.
This song however can be seen as controversial, as it does not directly address witches, but rather an insect (specifically, a night flier).
However, since witches are said to be flying at night for their meetings and other activities, it is clear the witch here is metaphorically represented in the life and nature of a night flier (KAMULIMULISIGN).
Get yourself entertained by listening to this creative piece of work.
Download it to update ur playlist.
Listen to KAMULIMULISIGN
Download to KAMULIMULISIGN
Kingsen Bars Vol 2 is a gift from Gingsen
Kingsen Bars Vol 2 is here. Worthy to be rated as a proper gift to rap afficionados. Call him the Boy wonder, and you are not far from truth. Gingsen is a formidable rap force prepping his repertoire to curate the best of hip-hop playlists. The young enigma has gone from telling Aisha's story, flowing unapologetically, dropping the dialogue , his Lemon Paper Freestyle, and Me flow to print his name permanently in hip hop.
Gingsen's Kingsen Bars Vol 1 gave an impression of a dope rapper set for greatness. Through the EP, the rapper got numerous features, and even earned a spot on EL's recent Bar 6 Album.
After which, he joined Tamale's Young Bull, Fad Lan to mesmerize the industry with Okay.
In pursuit of an enviable growth trajectory, the rapper has released Kingsen Bars Vol 2. A 5-track EP, Kingsen Bars Vol 2, present yet another opportunity to retain the respect associated with his brand. The rapper brings lyrical dexterity to bare, whilst switching between styles for fluidity in flow. Kingsen Bars Vol 2 retains the grit of hip hop, the bouncy beats, sultry vocals to complicnt rap, and multi-lingual lyrics.
Other Reads : Brand New! Dj Gizy, Teflon Flexx & Mani Mandela on one song
The purely hip hop EP is perfomed in Hausa, Twi, English, & Gurune. With features from Freddy Wyse, RicchKid & Quad Gee , Kingsen Bars Vol 2, is the official road trip EP.
The EP was produced by Treyvonne, Young White, Vel Beatz, Quad Gee & Gingsen himself.
Stream the Kingsen Bars Vol 2 on all music platforms.
Brand New! Dj Gizy, Teflon Flexx & Mani Mandela on one song
Dj Gizy continues to excite music lovers. What happens when three of the finest creatives combine forces? Nothing short of a thrill.
One of Upper East Region's finest Deejays, Dj Gizy has released a lovely tune as part of his birthday celebrations. The song features Stew Gang's Boss Teflon Flexx, and the man with the Northern Melodies, Mani Mandela. Titled My Love, it chronicles the desire to formerly win over a beautiful damsel. Performed in English & Buli, the two featured artistes present their wow sides to to compliment rhythmic and throbbing instrumentals.
Despite being frontiers of the new generation of Builsa born musicians, this is the first time they appear on a song together.
Enjoy this beautiful song.
Teflonn Flexx & Mani Mandela are perceived to have an unhealthy relationship, this feature by Dj Gizy could break the ice. Whatever was thought to exist is now diffused.