Brand New Show Bowy & Star Boy Sarauta
The Experiences EP tells the beautiful true-life story of Honcho Neggar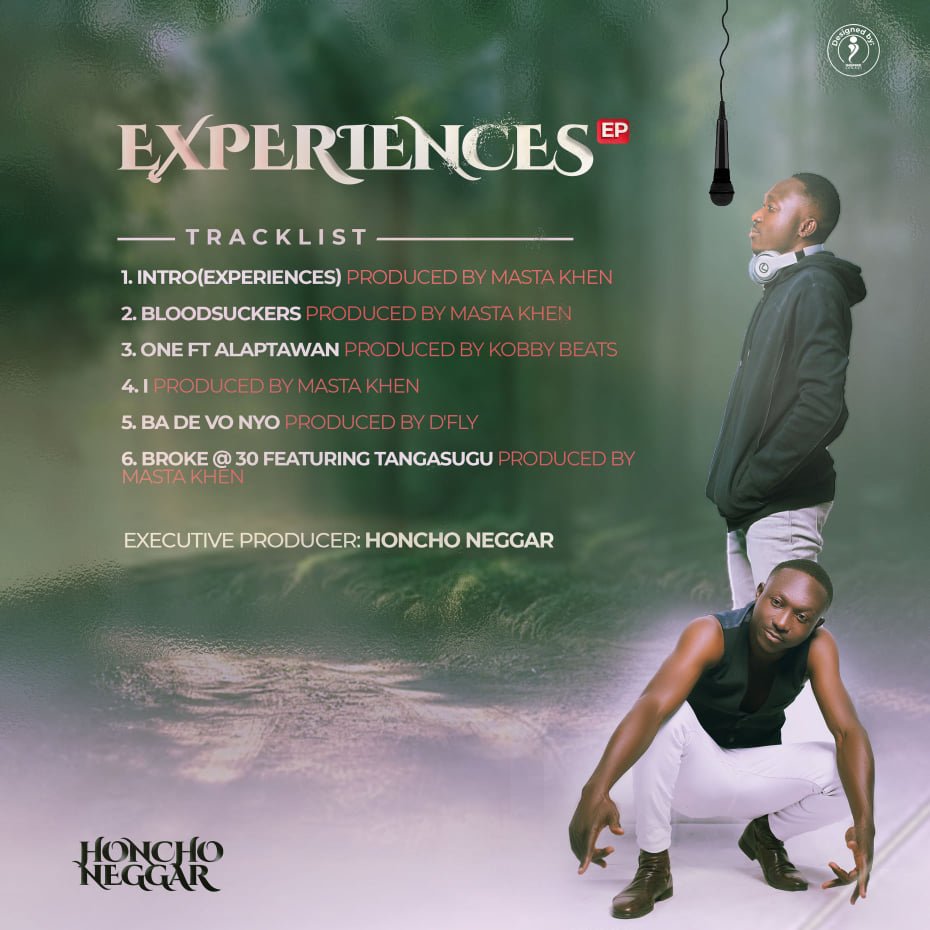 The Experiences EP is coming. Pius, known in musical circles as Honcho Neggar is about to set "rap-dom" off with pure genius lyrics. Known for his grit-filled bars in English, Kasem, and occasionally Twi. Expectations can only be as high as the heavens. His stand apart nature breeds one of the highest anticipated EP's in recent times. Ordinarily, one would view the craving as a supposition, however, Honcho Neggar's previous body-of-work lends credence to what we all anticipate.
The Experiences EP is an embodiment of everything rap and Hip hop. Suffice to say, despite being a musical genre, rap music is a tool that allows for infusions that spiral growth in many areas. It doesn't just stay entertainment, and that is what the quick-witted Honcho Neggar specializes in. Having churned out many songs to prove relevance, dexterity, depth as a thinker, as well as a force to reckon with; one of Navrongo's foremost lyricist is set to outdoor his first EP, The Experiences EP.
In a post on Facebook, the enigmatic rapper had the following to say about The Experiences EP.
"A man largely is a product of his environment. Whatever he experiences becomes his reality, unless after he encounters another culture that challenges his ways and he succumbs."
This reveals a lot about what to expect. The chronicles of what makes a man, the effects of acculturation, and the possibility of coming up trumps. All beautifully put on beats.
According to Honcho Neggar, The Experiences EP captures vividly his experiences from birth to date. This encompasses all spheres of his socio-cultural experiences. From faith, all through to politics. Aspiring to leave his audience with an impressive memory with picturesque lyrics, he goes candid on all verses. 
The Experiences EP has only two features; Alaptawan, and Tangasugu.
A precursor to this thought-winding EP was released sometime last year. Bloodsuckers was more of a swipe at what politics in Ghana truly stands for. The song received ovatious reviews, what would the public say about The Experiences EP?
He's assured listeners of themes that revolve around his Personal Life, Alcoholism, Tribalism/Ethnocentrism/Racism, Unity, among other sub-themes. All the songs were produced and mastered by three of Navrongo's finest beatmakers: Masta Khen, D'fly, and KobbyBeats. The six-track EP is a potpourri and is set to be released on the 24th of October, a day after Honcho Neggar's birthday.
No Devil! Nanky shows how it's done the Ampiano way with latest banger
Coming off the heat of several hit singles, Sultan Incorporated signee, Nanky isn't yet satisfied and wouldn't be quitting anytime soon as he injects another certified hit single; No Devil.
Over here on the West side of Africa, the Amapiano wave which emanated from the South all the way to the East of Africa is fast gaining grounds and making its way into the hearts of music lovers.
Hence, it wouldn't be a complete endeavor if the gifted crooner, Nanky, doesn't cement the process with his dope vocal skills and versatile flair as displayed on this tune.
Produced by the hitmaking music genius, Streetbeatz, the Amapiano infused instrumentation is just right for the message that No Devil carries.
The Cassette hitmaker is simply sounding a fair warning to all haters and enemies who wish to double-cross him on his level but he specifies that he is far gone and no devil can destroy his success.
This could quite be the story for every hustler out there striving to make ends meet and ascend the ladder of wealth!

Stream No Devil across all digital music platforms here – https://nanky.lnk.to/NoDevil
#nodevilbynanky
Instagram: iamnanky
Twitter: @iamnanky
Facebook: Nanky
Impressive! Ghanaian Rapper Dr. Pushkin Releases New App & Book ahead of "Outlandish" Album
Who is Dr. Pushkin?
Ingenious Dr. Pushkin, known in academia as Paul Azunre is a certified stunner par excellence. Having chalked immense success as an AI Prodigy, the Texas-based Ghanaian rapper employs his passion and area of study to further our civilization. Well-known for his contributions to advancing the state of Optical System Design Optimization Algorithms, the release of Khaya is a switch in direction.
What is Khaya?
Khaya is a mobile app that runs on Android, iOS and web. Its functionality amounts to preserving indigenous African languages. The App mainly allows for easy translation between mother-tongues. It also has a voice recognition feature that can do a voice-to-text transcription flawlessly.
While Dr. Pushkin and his fellow team members that developed the App strive to collect more data to facilitate the addition of more languages, the App currently carries out translation from English to Ga, Ewe, Twi, & Yoruba. It also allows translation between the aforementioned languages and English. Since the release of Khaya, many philologists and linguists have expressed the joy of an African seeking to preserve African languages. For the Khaya team made up of Algorine Inc and the Ghana Natural Learning Processing group, this is a dream come alive. The rare opportunity to give people an opportunity to learn, understand, and even speak an African language is beyond exhilarating.
Clearly, Dr. Pushkin intends to keep his being grounded in using AI and Music to change the social order.
Dr. Pushkin's Book – Transfer Learning for Natural Language Processing
Nerdy Dr. Pushkin is probably a case worth studying. True hip-hop aficionados know that the ability to compose songs and verses with the kind of Dr. Pushkin's depth does not come easy. Couching a theme, piecing the lyrics together, and arranging every aspect of the song to exude finesse and social consciousness is a defining factor for all respected rappers. If that's not challenging enough, his work as an Artificial intelligence authority should take up all his time. However, the former Brilliant Science & Maths Quiz winner made time to finish another ground-breaking Book. The book is titled "Transfer Learning for Natural Language Processing".
Obviously, his interests expressed through Khaya have an influence on this latest book. According to Dr. Pushkin, it's been two years of hard work, but he finally received the first Hardcopy of "Transfer Learning for Natural Language Processing", defining the experience as "surreal". The always-smiling scientist made a post via his Facebook profile page.
"The book "Transfer Learning for NLP" is about the machine learning techniques for processing human speech currently taking the world by storm. Personally, I use them in my work with Ghana Natural Language Processing and Algorine for translation, speech transcription, etc, in my business analytics work, and even in my music. The number of applications is truly mind-blowing."
Get a copy of Transfer Learning for Natural Language Processing
Hard copies and eBooks are available from Manning. The book will also be available on Amazon, Target, Barnes & Noble starting August 31, 2021, with pre-order available now.
This very easy to read and practice book is published by Manning Publications.
Subscribe to the YouTube channel for video lectures, and other related content aimed at helping more young people starting out in these fields to take on the upcoming decade with confidence. Several other relevant links can be found via https://solo.to/azunre
As the man behind the development of an algorithm that can guarantee to find the "best possible design" to an optical design problem, Dr. Pushkin is definitely on a growth trajectory that satisfies the soul and enhances life.
Away from artificial intelligence and academic work, Dr. Pushkin has readied a music album for Hip Hop lovers. Having brought to the fore a kind of music that seeks to transform, and bring change, the Outlandish Dr. Pushkin album definitely promises to be a full bouquet of unique music experiences, and it is one to look forward to.
About the "OUTLANDISH DR. PUSHKIN" Album
Akin to his music persona, this album features artistes whose prowess transcend entertainment. Call it an array of well-curated musicians with a touch of social awareness, and you won't be faulted. Amongst the list of featured musicians are Ghana's rap contortionist Budukusu, emerging Ghanaian silky voice Teri Wiizi, the ever-present Ataman Nikita, Muphasah, Kwadjo Spiri, Aggie, Kromanteng and AZA The Messenger.
Paul Azunre aka Dr. Pushkin, Nikita Tolkachev, Azkonnah and IV produced tracks on this artful collection of music. The album title speaks volumes – in an era where rap and hip hop has been criticized for being shallow and unoriginal, Dr. Pushkin promises to deliver something unique and special to us. The carefully crusted album has a track to touch each of us, to inspire and sustain us. That has always been the true nature of hip hop & rap.
The first track from the album – Rapinho – drops September 9th. It features a cameo from Loyaltexn. The second track – Hear Me Out, with Palermo-based Ghanain rapper Muphasah – is slated for September 23rd.
Dr. Pushkin is a Ghanaian Artiste of Gurune extraction currently based in Austin Texas, United States of America. He holds a Ph.D. from the Massachusetts Institute of Technology (MIT).