The Human Predicament – A Reflection on the Meaning of Human Life Pt. 1
  The brevity of human life, the vicissitudes of life, man's power and weakness, his dignity and misery, his joys and sorrows, his finitude, his experience of suffering, sickness, disease, death and decay, his anxieties, fears and worries, are all starting points for reflection and deep thinking.
The human person is the most marvelous and most complex being in the universe. The marvels of the human person by far surpass those of the physical universe.  The brevity of human life, the vicissitudes of life, man's power and weakness, his dignity and misery, his joys and sorrows, his finitude, his experience of suffering, sickness, disease, death and decay, his anxieties, fears and worries, are all starting points for reflection and deep thinking. Buddha's philosophy for instance arose from his reflection on human suffering – old age, disease, death and decay. Reflection on these phenomena of human life gives rise to some fundamental questions about the nature, purpose and meaning of human life on this earth.
What is man? He is so strong, yet so fragile, so powerful, yet so weak, so great, yet so miserable. He is so curious to know, and knows so much about the physical universe, yet he is so ignorant about himself. He is in fact a problem to himself, a mystery beyond his comprehension; he cannot answer his own questions about himself. From time immemorial, man has been preoccupied with questions about his origin, nature and destiny.
What am I? Why do I live? What is the meaning of my life? What, in the final analysis, is the ultimate value of my life? Where do I go from here? Am I heading for nothingness? There are of course many people who do not bother asking themselves such questions about the meaning and purpose of their lives. They just go on from day to day living unexamined lives. They work, eat, drink, struggle for money and wealth, marry and beget children among other desires. They just want to be like 'others' and they are submerged in their daily routine, without ever asking themselves what it all means in the final analysis. Man is a being who does not understand himself; and puts his own very being into question.
Man has natural desire for continued existence; his strongest instinct is that of self-preservation and self-perpetuation in existence. Yet his life span is brief and is often terminated contrary to his deepest desire. All his efforts to resist the imposed termination of his life are futile – off he goes whether he likes it or not. He is forced out of this world without even knowing where he is going. He did not choose to come to this world. He simply finds himself in this world without knowing why and sooner or later he will be forced out of it.
What then is the ultimate meaning of man's existence? What is the ultimate value of man's life? What is he living for? Has his life any ultimate meaning? We all know that we eat to live, but what do we live to do? Why do we live?
Albert Camus, a renowned French philosopher tells us that there is only one truly serious philosophical question, and that is, is human life meaningful or meaningless? This is also the most serious problem about human life. Albert Camus is quite right. Many people do commit suicide because they find life meaningless. They feel that a meaningless life is not worth living. They therefore terminate it.
Part three comes up next week.
Credit: Inusah Awuni – MPhil, MA, BA (Lecturer – AUCC & DUC)
Email: agolgoti@yahoo.com
DND Goes Hard on "Witchcraft" through Rap; with KAMULIMULISIGN aka the Night Flier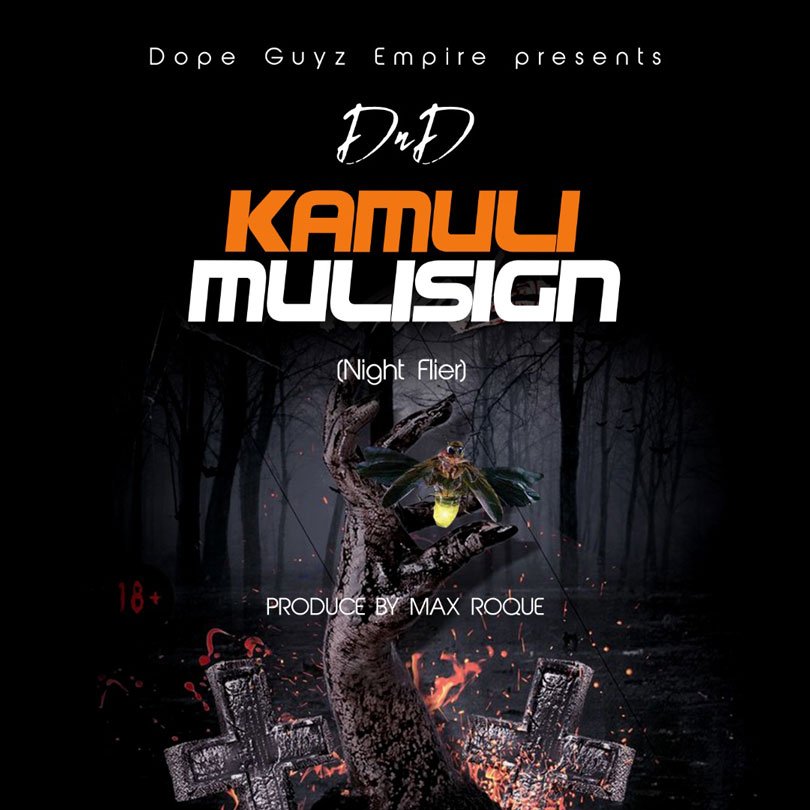 DND of the Dope Guyz Empire comes again with another creative piece.
This time, the duo tackles a very sensitive topic.
The song is entitled KAMULIMULISIGN addresses some evil doings in our societies. The song emphasises the fact that hatred, jealousy and envy are the causes and sources of human suffering, and these bad deeds are the fertile ground for the activities of the rampant witchcraft and its adverse effects on humanity and society as a whole.
Many innocent lives have been lost, as well as destroying people with good minds for development. The song questions why witches are only and passionately interested in killing and destroying great people who have good intentions and the ability to bring development.
This song however can be seen as controversial, as it does not directly address witches, but rather an insect (specifically, a night flier).
However, since witches are said to be flying at night for their meetings and other activities, it is clear the witch here is metaphorically represented in the life and nature of a night flier (KAMULIMULISIGN).
Get yourself entertained by listening to this creative piece of work.
Download it to update ur playlist.
Listen to KAMULIMULISIGN
Download to KAMULIMULISIGN
Kingsen Bars Vol 2 is a gift from Gingsen
Kingsen Bars Vol 2 is here. Worthy to be rated as a proper gift to rap afficionados. Call him the Boy wonder, and you are not far from truth. Gingsen is a formidable rap force prepping his repertoire to curate the best of hip-hop playlists. The young enigma has gone from telling Aisha's story, flowing unapologetically, dropping the dialogue , his Lemon Paper Freestyle, and Me flow to print his name permanently in hip hop.
Gingsen's Kingsen Bars Vol 1 gave an impression of a dope rapper set for greatness. Through the EP, the rapper got numerous features, and even earned a spot on EL's recent Bar 6 Album.
After which, he joined Tamale's Young Bull, Fad Lan to mesmerize the industry with Okay.
In pursuit of an enviable growth trajectory, the rapper has released Kingsen Bars Vol 2. A 5-track EP, Kingsen Bars Vol 2, present yet another opportunity to retain the respect associated with his brand. The rapper brings lyrical dexterity to bare, whilst switching between styles for fluidity in flow. Kingsen Bars Vol 2 retains the grit of hip hop, the bouncy beats, sultry vocals to complicnt rap, and multi-lingual lyrics.
Other Reads : Brand New! Dj Gizy, Teflon Flexx & Mani Mandela on one song
The purely hip hop EP is perfomed in Hausa, Twi, English, & Gurune. With features from Freddy Wyse, RicchKid & Quad Gee , Kingsen Bars Vol 2, is the official road trip EP.
The EP was produced by Treyvonne, Young White, Vel Beatz, Quad Gee & Gingsen himself.
Stream the Kingsen Bars Vol 2 on all music platforms.
Brand New! Dj Gizy, Teflon Flexx & Mani Mandela on one song
Dj Gizy continues to excite music lovers. What happens when three of the finest creatives combine forces? Nothing short of a thrill.
One of Upper East Region's finest Deejays, Dj Gizy has released a lovely tune as part of his birthday celebrations. The song features Stew Gang's Boss Teflon Flexx, and the man with the Northern Melodies, Mani Mandela. Titled My Love, it chronicles the desire to formerly win over a beautiful damsel. Performed in English & Buli, the two featured artistes present their wow sides to to compliment rhythmic and throbbing instrumentals.
Despite being frontiers of the new generation of Builsa born musicians, this is the first time they appear on a song together.
Enjoy this beautiful song.
Teflonn Flexx & Mani Mandela are perceived to have an unhealthy relationship, this feature by Dj Gizy could break the ice. Whatever was thought to exist is now diffused.