ADINKRA
"Adi-nkra" which can be translated to mean "farewell or goodbye" in Akan, is a collection of symbols that express various themes…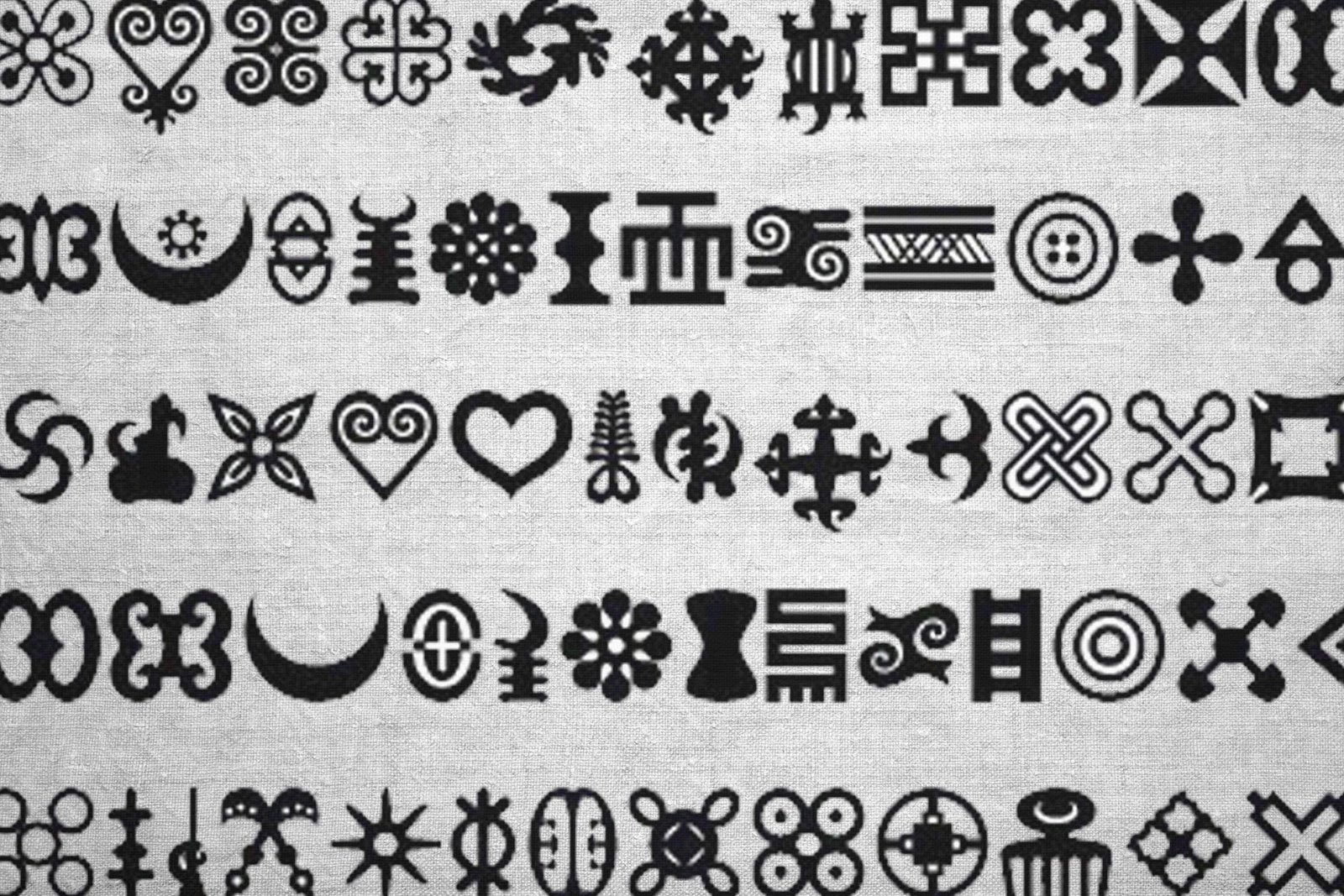 Adinkra symbols express various themes, beliefs and the ethnological philosophy of the Ghanaian. Adrinka symbols are induced with proverbial interpretations.
"Adi-nkra" which can be translated to mean "farewell or goodbye" in Akan, is a collection of symbols that express various themes, beliefs and Ghanaian traditional philosophy. The Akan ethnic group is largely associated with, and thought of as the doyens of Adinkra symbols.
Historic narration of the genesis of Adinkra has it that, Nana Kofi Adinkra, the King of Gyama, a kingdom situated in the area which encompasses present day Ivory Coast, for unknown reasons replicated the "Asante Golden Stool" which is a highly revered symbol of the Akan unity, power and cohesion. This was not taken lightly by the Asante's who eventually waged war against Nana Adinkra and the Gyamas. Gyama was defeated in the ensuing battle and Nana Kofi Adinkra captured and taken to Kumasi, the capital of the Asantes and Gyama made an annex of the Asante Kingdom. It is said that on their way to Kumasi, Nana Kofi Adinkra wore a patterned dress full of symbols, which was thought to express his sorrow, as was the practice of the people of Gyama in days.
Centuries on, the Asantes and virtually all the Akan tribes have learnt the practice of printing the symbols of the Gyama people on cloths. A clear indication of cultural diffusion.
Today, cloths with branded Adinkra symbols are worn at social gatherings. Some corporate institutions even use adinkra symbols as their logo.
Writer: Edwin Abanga:Thesavannaonline
 Alapta Wan covers Gringo
Call her the Upper East Regions first lady, and you won't be faulted.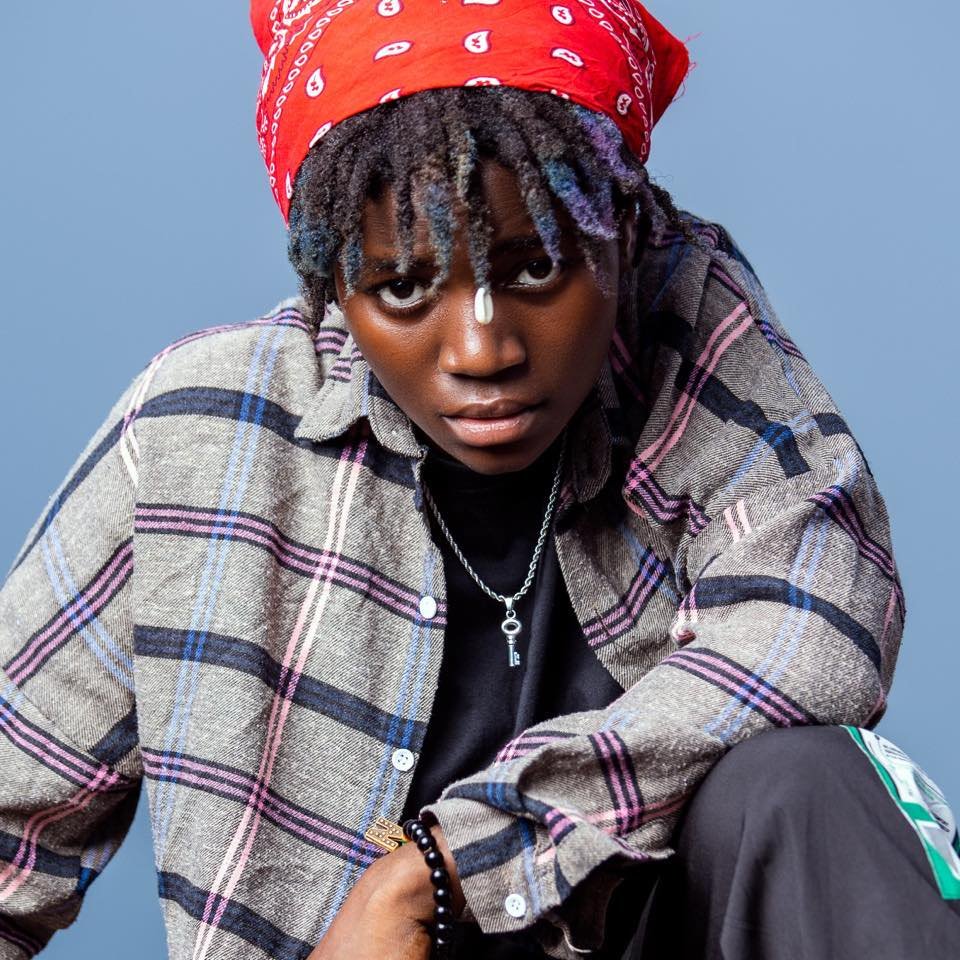 After emerging as a force ready to conquer the Upper East music scene; she went ahead to prove her worth by releasing awesome dancehall music. Alaptawan has been relentless in unleashing sounds that project the image of one set to reign for a long time. Despite being relatively new in the industry, the few singles she's released through 2017 has kept her name on the lips of fans at all events.
Whilst fans await another banger from Alaptawan, she has released a little tease of what's cooking.  This time around, she brings some raunchiness to give life to Shatta Wale's Gringo.
Call her the Upper East Regions first lady, and you won't be faulted. She has been tearing up stages across the region; this she believes is the first step to nation-wide domination and subsequent global stage.
The song renamed Bumba, is a simple but catchy dancehall filled with pure fun.
Alaptawan is Savanna Music's lead songstress.
Listen & Download Bumba below.
GOOD OLD DAYS
The younger kids who were not allowed to join the park for the sheer childhood reason of being "underage" satisfied themselves by dividing themselves into two different groups and played "Police and Thief"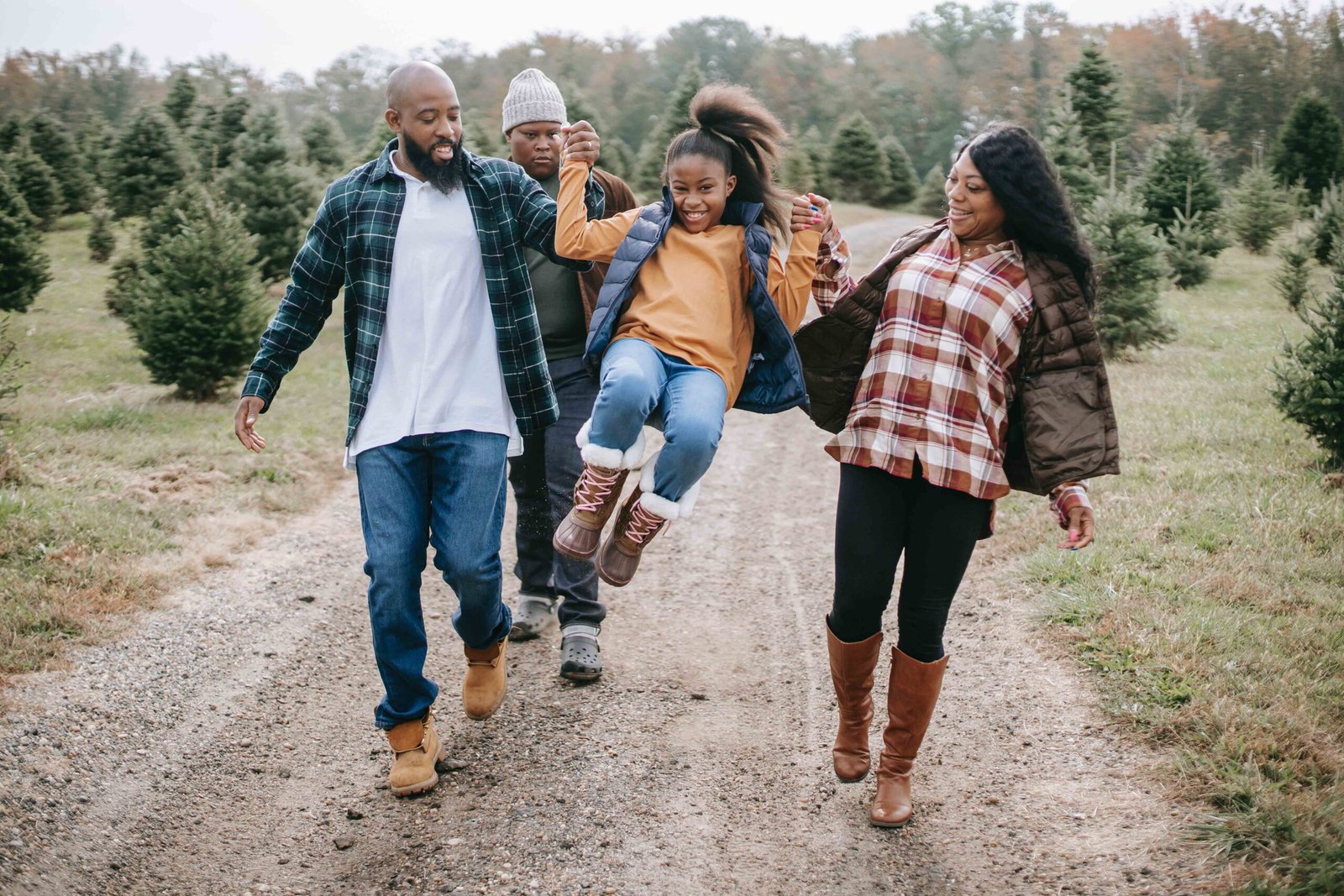 A group of children huddled together in a circle, in the middle of the untarred road clapping and slapping their bare hands over their thighs as they sang their hearts out merrily and played;
"bam bambambalika
baaambaambambaalika
bambaambambalika,
have you seen your friend
shakeyshakey shake your body,
shakeyshakey shake your body,
shakeyshakey shake your body have you seen your friend".
The younger kids who were not allowed to join the park for the sheer childhood reason of being "underage" satisfied themselves by dividing themselves into two different groups and played "Police and Thief". Each player secured a stalk from a pawpaw tree, broke awake the leafy end and used it as a Pump Action gun affectionately called "Kafungbe" among the kids. The better skilled kids divided the stalk into several uneven parts and joined them together by inserting broomsticks into them; it was done so dexterously that it easily passed for a pistol.
Though there were little less than fifteen children in all, the noise they made out of their sheer ecstasy was as thunderous as that of a hundred kids.
Kwabena Kwakye, the only albino in the park, was unfortunately the most teased kid. He was teasingly called "anopasaman" which meant, "ghost of the morning". He joined his peers in playing "Police and Thief" but he was the worst player in the "Thief group". His light skin color always betrayed his tactics; he was easily spotted from far, arrested and put in an imaginary prison. Among the lot, Boi bi Boi was the most annoying; he would often run home and get everybody searching till night came, only to be found eating in his mother's kitchen. The kids, boys and girls alike, will come together after supper in what was like their "court" and discuss what happened at school and whose teacher was the wicked and talk about all the childhood fantasies. Often times they unanimously agree to suspend Boi bi Boi from the play group for ruining their fun but that little chubby boy always found his way back into the play group, especially when he came around with his black and white case five football.
The children played, except Abdul-Jaleel. He was seated at one corner with his chin cupped in his palm. He was a very lively lad and was always found in the playgroup so it was strange to find Abdul-Jaleel sitting alone like he did today. His face looked pale and very unhappy. Kwabena Kwakye was the first to notice Abdul-Jaleel.
"Why are you not playing Jaleel?" he asked.
"I don't feel like playing" was the curt response.
"But why?" he asked again.
"Kwakye koraa I am hungry don't disturb me aah!"
"Why don't you tell your Mom you are hungry, have you done something wrong at home?" Kwakye asked again.
Kwabena Kwakye was a very warm lad and fond of asking many questions like the rest of his play mates, wanting to find the "why" and "what" of everything he came across.
"If I were you, Kwakye added, I would ask Auntie Yaa for Gari and soak it and drink"
Abdul-Jaleel shot a quick look at Kwakye like he had given him the answer to Hercules' riddle. He got up and run to Auntie Yaa, the old lady who runs the grocery store. She was so loving and gave to the kids so freely, they all loved her, not just for the gifts but for also saving them anytime they run into some trouble and were to be beaten at home. She was their source of  "salvation ".
Abdul Jaleel knew it was the month of Ramadan and was not supposed to be eating until noon as his father had instructed but he just couldn't stand the desire to taste food not to mention the pangs of hunger that drummed in his belly. Abdul-Jaleel's father had resorted to having him fast up to noon because of his age but that mischievous little boy had his own way outside the home.
He got what he wanted from Auntie Yaa who added some sugar and groundnut to accompany the mixture. "You will not be part of this year's Salah celebration, Jaleel", Auntie Yaa warned teasingly. But Jaleel was way gone with the Gari soakings, he knew he was safe so long as nobody reported to his Mom or Dad, he only had to tell a white lie and he would be gone with it.
"I feel good!" he jumped up after finishing the giant cup of Gari soakings. Auntie Yaa smiled as he watched the young lad, it gave her joy to see little children beam with happiness. Jaleel run off quickly to join the rest of his friend on the street to play. Those were the good old days.
Written by Edwin Abanga, 0249475585 (student journalist)
Buluk to Celebrate Feok on 22nd December 2017
Characterized by a massive influx of indigenes from all over Ghana (the world). Many simply come to Sandema to witness the famous war dance/march believed to have been a major tactic used to repel & defeat slave raiders in colonial times.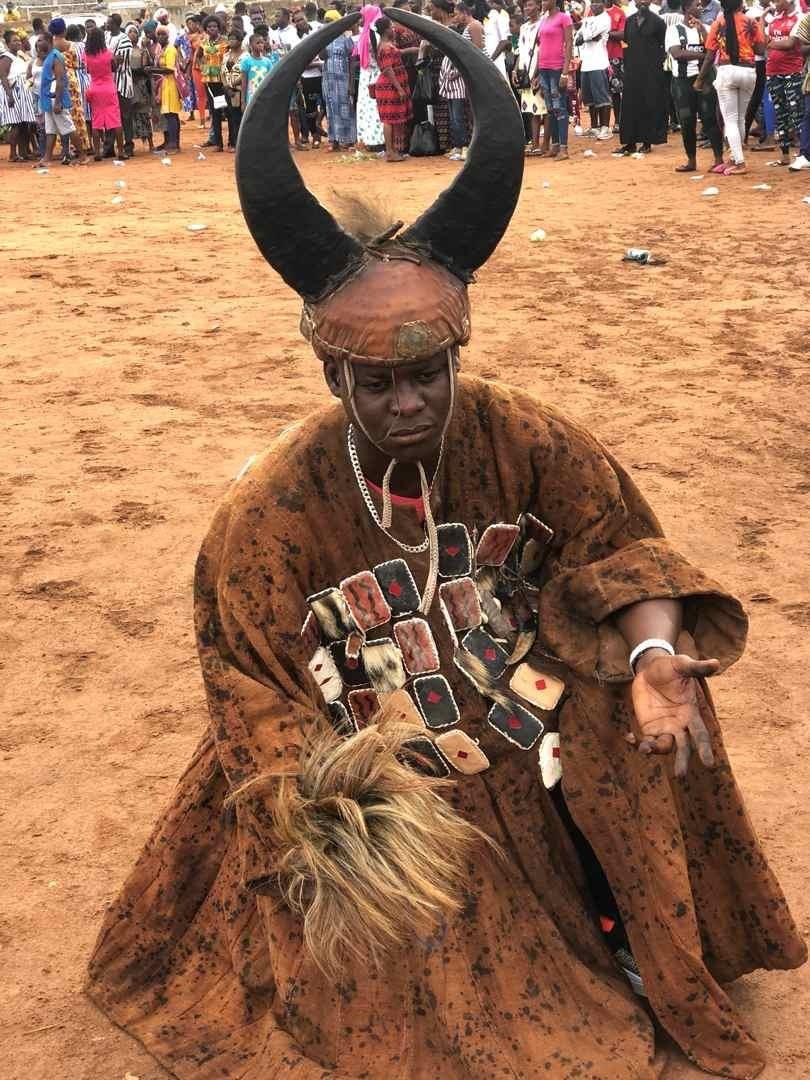 The Story of Feok
The story of Feok is one premised on a cultural celebration of bravery and a bountiful harvest. The nostalgia surrounding it is not confined to merry making and the pouring of libation. It is more centered on a unified celebration of one festival by 13 autonomous towns; though linked by lineage, language, locale and similarities in cultural practices.
Characterized by a massive influx of indigenes from all over Ghana (the world). Many simply come to Sandema to witness the famous war dance/march believed to have been a major tactic used to repel & defeat slave raiders in colonial times. Whilst the dance/march is a sight to behold, the nostalgia from the beautiful Smock apparel fitted with talismans of different sizes and different spiritual efficacies speak volumes of the traditional nature of the celebrations.
Warriors who double as hunters hang several animal skins & bones as part of their regalia.
The majestic back and forth strides in semblance of a marauding bull is said to have re-enforced the camouflage tact adopted by Builsas in times of war. The horned hats, the sharp axe, as well as the bow and arrow (often laced with poison in true war situations) remain a Builsa warriors tool-kit.
The Archery competition often held a day after the grand durbar of the Chiefs and people is proof of our superiority in using arrows as weapons during war. It has been said that some of our great warriors where master archers on horseback.
Even though music drives the entire celebrations, there is a lot of spiritual exercises to commence and ensure a peaceful and successful celebration. The spirituality of the celebrations is however not entirely open to the public.
Feok in its truest form is therefore the spirit of Buluk.
The Spirit of Buluk
As the spirit of a unique people, each celebration must assume a milestone and a new phase for our forthright march towards economic emancipation.
The above has governed the celebrations since the inception of Feok by the late Nab Ayieta Azantilow. The thematic celebrations are testament to the development oriented nature of the celebrations. Whilst we may argue about the effective pursuance of the themes that characterize each celebration, we can also re-orient our minds to adjust for a take-off. One that fully sees the realization of set targets by way of the governing themes.
Such is the nature of a spirit – oneness for growth. The direct benefits for the business community and the gains for the two Builsa districts as tourism surges remain limitless. It is therefore prudent to see the spirit of Buluk and fully adopt it for empowerment of all.
Empowerment for all
The traditional Builsa is perceived to be fearless, tactical and very resourceful. These assertions may have arisen from the many wars fought to repel slave raiders. The unconventional tactics used by Builsa warriors, which were later adopted by neighboring towns lend credence to the tactical and fearless nature of our being. Our resourcefulness stem from our ability to turn any situation into gain and emerge victors. This may have accounted for the role of Nab Ayieta Azantilow in psyching the Ghanaian contingent drafted to fight alongside the British in Burma. It is therefore appropriate to explore Feok and its adjoining activities to open up economic opportunities for all. Opportunities abound yet we have done little to nothing in realizing the gains from those opportunities.
Opportunities
Feok is a celebration of culture & History. Culture & History is an intricate part of tourism. Tourism is a major economic development tool.
Evidence of the slave trade abound in Buluk; this considers the multi-ponged fight approach in defeating slave raiders; Builsa-land definitely has insightful evidence worthy of visits to all who have an interest in the history of slave trade.
The birth of Buluk is quiet interesting and ascertaining the origin of Builsa's and the reasons behind the 13 autonomous Builsa towns is worth exploring.
The myths surrounding the giant who lived in Kadema and the speculated total annihilation of "Vari" around Bachongsa  is also worth probing.
There is so much Buluk has to offer the world by way of tourism.
Relics from some battles with slave raiders still exist in Fiisa and some other places. the activities surrounding Feok is capable of attracting a huge volume of tourists when properly marketed.
When we open up by branding and marketing Feok well, a lot of jobs will be created…
I will be sharing some business ideals in my next article.