Promotion or demotion 2
Admittedly musicians are just like any other brand and so every aspect of their being must be to perfection or at least close to it. This requires a careful retrospection and also analysis of whom your target audience is albeit you want to be a global celebration.
We are endowed with a wide array of artistic tools; unique traditional elements like language, music/musical instruments, landscapes & locations, folklore, dances, Griots–to the modern elements that aid in boosting the economic viability of the aforementioned elements.  How about exploring these before strangling ourselves with award schemes that seek to elevate egos and not necessarily improve our artistic being and economic standing?
I will not bore you with winding narratives on how we manage to stifle our growth with the numerous award schemes. Admittedly musicians are just like any other brand and so every aspect of their being must be to perfection or at least close to it. This requires a careful retrospection and also analysis of whom your target audience is albeit you want to be a global celebration.
As subjective as defining a good brand can be, we will agree there is a common ground when we seek to compare impactful artistry, and that is where our self entitled attitude could further derail us from the path of glory.
Today's music business goes beyond the local champion syndrome; so one must seek to get same or similar acclamation wherever they exhibit their artistry. This requires thinking outside the scope of pleasing your townsfolk or people in your immediate region. I'm not in anyway suggesting that using your indigenous language in composing music is defeatist, because language can be as effective as any of the elements one employs in creating a masterpiece.  The artistic use of language can actually be the selling point of an artiste.
The onus is largely on the artiste and management to fully understand the nature of what makes good music and not just stick to one element which may get them a small following. One needs to go beyond language, and pay good attention to instrumentation & the quality of production of all musical pieces. The introduction of traditional elements of music can also be a major feature in creating a unique artiste in the quest to dominate the global scene.
Stay humble; humility is a virtue that continues to aid the soaring of artistes like Stonebouy; I've known Stonebouy for a while and we can all attest to the force with which he is dominating the music scene in Ghana, he could have laid back and enjoy the street disciples' praise but no, he values and knows who will actually label him a star hence he paid the price by staying humble in dealing with his peers, media and even fans. This has made him a toast of many.  Can that be said about the numerous acts that adorn the savanna? From experience I will emphatically say NO, and by that I'm not bundling all artistes together, but if front liners are not humble, how do we expect the younger ones to be humble.
The sacrifice and investment; Music as we've come to know is a full time business that requires a lot of sacrifice and investment; both time and finances. We've heard people say "talent is not enough", how we relate to that phrase actually can impact our success as musicians. From the image of an artiste which involves the quality of photography, artworks, quality of videos, to investing in vocal performances, studio recordings, live instrumentations and even self improvement programs that can help in interviews and managing your persona in the corporate world, we need to consciously dedicate resources to ensure the aforementioned are at the apex of quality.  These will set-up any artiste for every market that appreciates hard quality work. The above is also one thing artistes need to really take seriously, friends and family will do you favors but the bills they have to foot inform how much they can do for you for free.
A key element in this life is loyalty, however when this is misplaced one is sure going to face the repercussions associated with it. Many artistes form cliques and movements, which really don't have anything in line with improving musical worth, but rather creates the impression of a following. This births paranoia as artistes find themselves making music to please the few people in these cliques; most of who will never pay to attend a show or purchase an album. Usually most members of these cliques are personal friends and family who would would rarely give objective criticism on works. If you believe objective criticism is a much needed fuel in improving your artistry you should be reexamining where you place your loyalty.
Crowning of mediocrity in all aspects of this multi faceted industry;
In as much as I have no problems with putting together award schemes, the sectarian nature and limited number of artistes creates a situation where mediocrity is crowned.  The recent Upper East Awards is a good case to cite here, a good number of demo songs actually found their way on the nominations list and even went ahead to win some awards. Are we then celebrating amazing music or just trying to crown some people? No serious artiste will enter a demo song in an award scheme neither wills any serious event organizer accept entries that don't meet a certain standard of quality. However, given the small operational zone of the scheme, it is easy for such to happen. We therefore need to look beyond our small enclaves and aspire to be part of more competitive schemes, after all whether Navrongo, Tamale or Accra, every artiste wants to be seen as the ultimate when it comes to good music.
Unguided trend following; Whilst artistes will swear to forever stay true to the kind of music they represent, the temptation not to follow trends is far more daunting hence they succumb. Whilst others argue that an ability to adapt to styles and trends is proof of versatility, I believe an ability to walk unchartered zones and still stay you is actually proof that you mastered your craft and control of your audience. Succumbing to trends can only destroy the originality in style of an artiste thereby creating genres like Reggae/Dancehall when both are very different genres. Our artistes therefore need to stay true to themselves, their styles and not just hop from genre to genre. Don Sigli is one of current crop of artistes who has stayed true to his kind of music and maintained relevance no matter which stage he is on.
Lack of ingenuity. (Your native language is not enough); Music lovers are constantly looking  for out of the box performers and musicians, this is because as humans we constantly strive to experience same or similar things in varied ways. This when brought into music can be a massive selling point for an artiste. King Ayisoba is busy travelling the world with his beloved Kologo and unique brand of music. How is he different from the many "world" artistes that the we've listened to? Well, he brought a unique musical instrument, fused it with a lot of other instruments and offered something different from all the other artistes. His collaboration with Mobeatz on the song "Me ka" is proof of his ingenious superiority. This then suggests that, our artiste need to adopt relevant elements of their various cultures to create a unique sound in their chosen genres. I would wanna hear an rnb tune over a xylophone, I would love to hear some dondo in our reggae songs. Yes, just be ingenious and you will reap fruits sweeter than mangoes.(lol…You get it right?)
We've allowed rivalry to gain roots in an industry that can only be said to be in it's infantile stage. Many would cringe at the word infantile but that's my assertion. Recently fans of Fancy Gadam and Macassio clashed resulting in broken windscreens etc. Why would two talented artistes be subject to such damning rivalry? If we do not have any immediate memories of the results of these "gangs" we might have to revisit the era of Tupac & Biggie, Game and Gunplay, and the many great artistes we've lost to unnecessary rivalry to understand the repurcussions of these rivalries often employed in an attempt to create hype. First off, there are enough fans for everybody to reach so there's really no need to make play rivals when artistes are uniting to do amazing musical works.
An artiste who lacks the ability to fully comprehend the import of criticism is definitely bound to fail since they perceive anyone who critics as an enemy. Some of us have a penchant for looking beyond the surface of issues and works and so we would continue criticize hoping that it helps shape the arts in the savanna. Artistes and their management therefore need to desist from making enemies out of all who criticize and rather look at the issues presented. Your enemy doesn't want you to succeed, but your critics urge you to reach higher and prove them wrong.
The numerous award schemes has created a career killing mafia since organizers accord themselves a god status because they covertly have an influence in deciding who deserves an award, a situation that has spread even to deejays and radio presenters. Deejays and radio presenters play a vital role in promoting music, so when they suddenly take sides, a number of things manifest–sidelining and continuously running down the efforts of acts they don't support. This is done with concerted efforts so much so that it becomes evidently clear to the entire public. If indeed we want to see our music and art industry develop, we would need to stop playing God and give equal opportunity to all artistes we encounter.
We can do what we want to fit but that will not make us stand out yet we all agree standing out is the through case of master atistery.
DND Goes Hard on "Witchcraft" through Rap; with KAMULIMULISIGN aka the Night Flier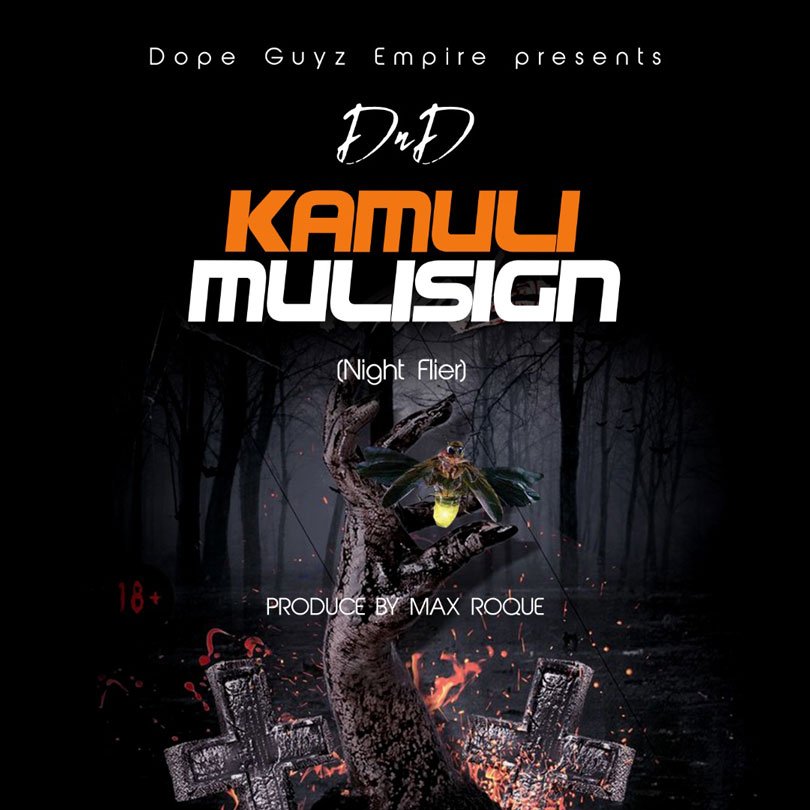 DND of the Dope Guyz Empire comes again with another creative piece.
This time, the duo tackles a very sensitive topic.
The song is entitled KAMULIMULISIGN addresses some evil doings in our societies. The song emphasises the fact that hatred, jealousy and envy are the causes and sources of human suffering, and these bad deeds are the fertile ground for the activities of the rampant witchcraft and its adverse effects on humanity and society as a whole.
Many innocent lives have been lost, as well as destroying people with good minds for development. The song questions why witches are only and passionately interested in killing and destroying great people who have good intentions and the ability to bring development.
This song however can be seen as controversial, as it does not directly address witches, but rather an insect (specifically, a night flier).
However, since witches are said to be flying at night for their meetings and other activities, it is clear the witch here is metaphorically represented in the life and nature of a night flier (KAMULIMULISIGN).
Get yourself entertained by listening to this creative piece of work.
Download it to update ur playlist.
Listen to KAMULIMULISIGN
Download to KAMULIMULISIGN
Kingsen Bars Vol 2 is a gift from Gingsen
Kingsen Bars Vol 2 is here. Worthy to be rated as a proper gift to rap afficionados. Call him the Boy wonder, and you are not far from truth. Gingsen is a formidable rap force prepping his repertoire to curate the best of hip-hop playlists. The young enigma has gone from telling Aisha's story, flowing unapologetically, dropping the dialogue , his Lemon Paper Freestyle, and Me flow to print his name permanently in hip hop.
Gingsen's Kingsen Bars Vol 1 gave an impression of a dope rapper set for greatness. Through the EP, the rapper got numerous features, and even earned a spot on EL's recent Bar 6 Album.
After which, he joined Tamale's Young Bull, Fad Lan to mesmerize the industry with Okay.
In pursuit of an enviable growth trajectory, the rapper has released Kingsen Bars Vol 2. A 5-track EP, Kingsen Bars Vol 2, present yet another opportunity to retain the respect associated with his brand. The rapper brings lyrical dexterity to bare, whilst switching between styles for fluidity in flow. Kingsen Bars Vol 2 retains the grit of hip hop, the bouncy beats, sultry vocals to complicnt rap, and multi-lingual lyrics.
Other Reads : Brand New! Dj Gizy, Teflon Flexx & Mani Mandela on one song
The purely hip hop EP is perfomed in Hausa, Twi, English, & Gurune. With features from Freddy Wyse, RicchKid & Quad Gee , Kingsen Bars Vol 2, is the official road trip EP.
The EP was produced by Treyvonne, Young White, Vel Beatz, Quad Gee & Gingsen himself.
Stream the Kingsen Bars Vol 2 on all music platforms.
Brand New! Dj Gizy, Teflon Flexx & Mani Mandela on one song
Dj Gizy continues to excite music lovers. What happens when three of the finest creatives combine forces? Nothing short of a thrill.
One of Upper East Region's finest Deejays, Dj Gizy has released a lovely tune as part of his birthday celebrations. The song features Stew Gang's Boss Teflon Flexx, and the man with the Northern Melodies, Mani Mandela. Titled My Love, it chronicles the desire to formerly win over a beautiful damsel. Performed in English & Buli, the two featured artistes present their wow sides to to compliment rhythmic and throbbing instrumentals.
Despite being frontiers of the new generation of Builsa born musicians, this is the first time they appear on a song together.
Enjoy this beautiful song.
Teflonn Flexx & Mani Mandela are perceived to have an unhealthy relationship, this feature by Dj Gizy could break the ice. Whatever was thought to exist is now diffused.